Integrative alternatives for reducing cadmium (Cd) concentration in cacao beans in Latin America and the Caribbean
Implementing multidisciplinary approaches to allow/maintain access to regulated markets (Cd) of cacao from LAC region therefore contributing to the sustainability of the cacao sector in the region.
Context of the story
Cacao (Theobroma cacao L) is one of the most important crops in the Latin American and Caribbean (LAC) countries. Furthermore, it is the primary income of thousands of families, particularly in rural areas. In recent years, stringent cadmium (Cd) regulations in foodstuff have been discussed and implemented in several key markets, i.e. the European Union. The prolonged consumption of Cd-tainted foodstuff can onset severe illnesses and diminish our health which ultimately cause cancer. Cd is a heavy metal and soil contaminant therefore limiting the soil to plant transfer should be a major action towards remediation.

Sustainable cacao for Latin America and the Caribbean
The implemented initiative
The major objective of this platform is to promote the use of research and innovation for the sustainable production of cacao in LAC countries, with due attention to quality and low Cd levels, allowing to differentiate in international markets. To fulfill this objective, the platform is organized into four components such as: 1) genetics and plant nutrition to lower Cd in cacao plants, 2) strengthening laboratory capacity and technology to mitigate Cd in cacao, 3) organize the cacao value chain to reduce the effect of Cd in cacao and 4) knowledge management. The platform performs in a interdisciplinary manner to reduce, in at least 30%, cadmium concentration in cacao beans through the application of soil amendments and/or cultivar selection with low Cd uptake capacity.
Sustainability of the cacao supply chain through the use of scientific research and innovation for positioning LAC cacao as high quality and low cadmium
The technological solution
The high levels of cadmium in cacao beans are the aftermath of edaphic factors such as pH, organic matter and microorganisms. These factor increase the amount of bioavailable cadmium and consequently plant Cd uptake. Unfortunately, little is known about this problem thus scientific-based mitigation strategies are key. The platform focus on strengthening the analytical capacities of local labs with proficiency tests and standardized methodologies. Soil and plant samples were collected to detect the cold and hotspots of Cd in the countries along with the soil properties that triggers plant Cd uptake. Greenhouse and field experiments were implemented to determine the cultivar effect along with nutritional status of cacao plants on cadmium concentration. Additionally, six field experiment were implemented where soil amendments and microorganisms are applied to reduce cadmium in cacao beans. These experiments will be systematically monitored for 18 months.
I am a passionate farmer and I also recognize that research is essential to make it applied with farmers.n.
Results
The use of certified reference materials (CRMs) in the labs were promoted. The use of these materials allows to determine the analytical quality and interlab comparison. Currently, the recovery percentage of the CRM (leaves) is > 85% which indicates reliable data. The first cadmium in cacao survey was completed in Costa Rica. Results indicated that the problem is not as present as in Colombia or Ecuador, but, some areas where identified as hotspots. The secind amendment application was completed in the demonstrative farms. Initial results in Colombia indicate that the use of microorganisms is a promising tool to reduce plant-available Cd, longer monitoring is needed to confirm this result. In Costa Rica and Ecuador, samples were collected and will be analyzed soon. A 33% reduction of Cd was found due to potential varietal effect in cocoa in Costa Rica.
Relevant data
Relevant results of the "Cacao 2030 – 2050" Platform
-
Participants in training activities.
-
Experimental farms established by the platform.
-
Annual workshops developed.
-
Approved and standardized laboratory methodology.
-
Analytical database of the network's laboratories to strengthen analytical methodologies
-
Toolbox with CD handling guides
Project infographic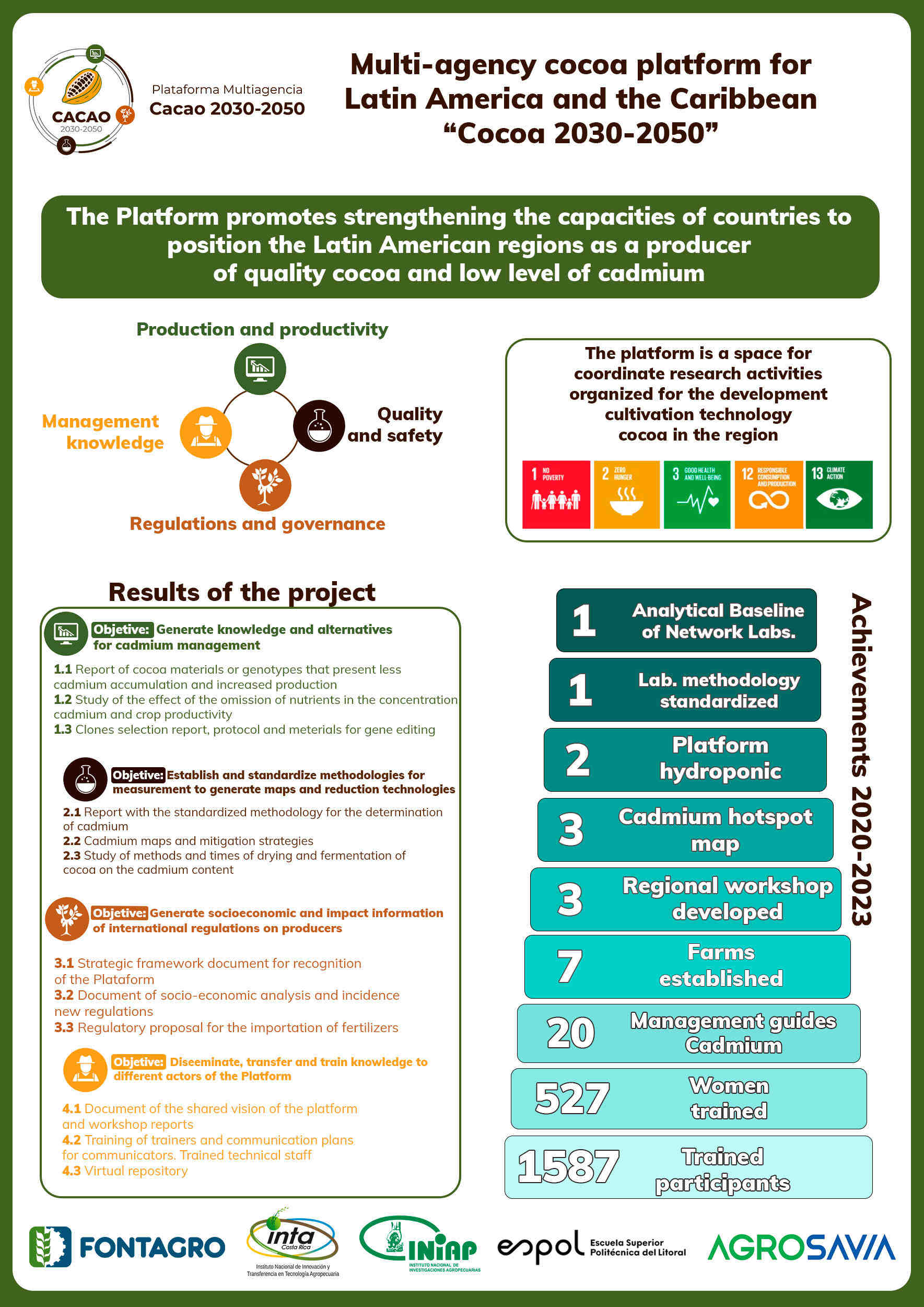 Participating Organizations